Cauliflower Mac & Cheese Filo Pie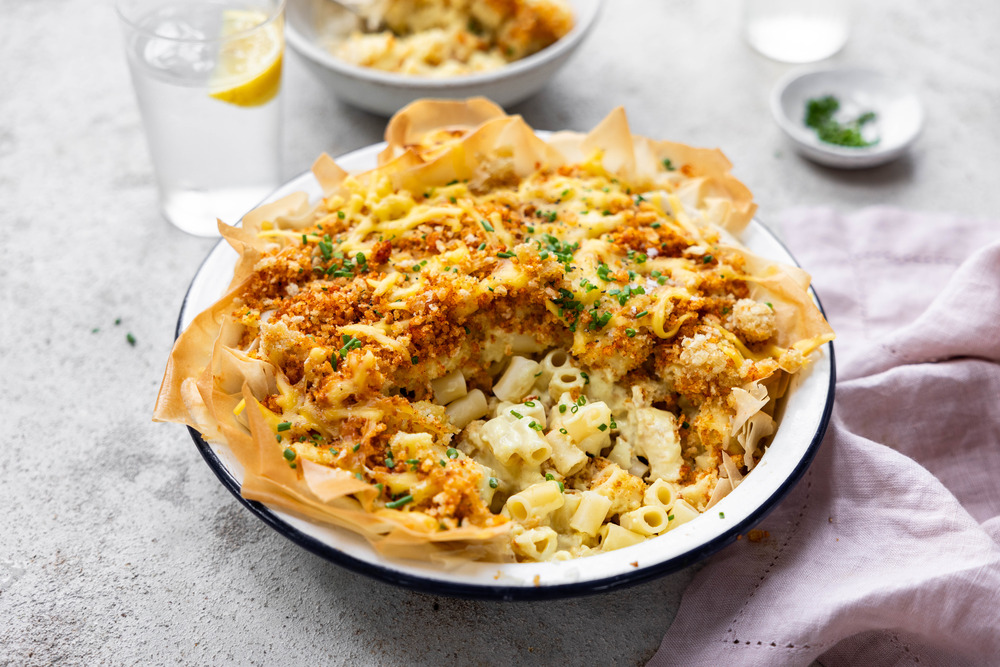 30mins
Ingredients

1 medium cauliflower, chopped into small florets
300g macaroni
75g Dairygold plant based alternative creamy spread
75g all-purpose flour
500 ml plant-based milk
2 tbsp miso paste
2 tbsp nutritional yeast
1 tsp mustard
3 Dairygold plant-based alternative white slices
1/4 tsp turmeric
1/4 teaspoon paprika
1 tsp salt
½ tsp freshly ground black pepper
4 sheets of filo pastry
50g melted Dairygold butter

Crumb

100g breadcrumbs
3tbsp chopped chives
100g grated Dairygold plant-based alternative white grated
Ingredients
1 medium cauliflower, chopped into small florets
300g macaroni
75g Dairygold plant based alternative creamy spread
75g all-purpose flour
500 ml plant-based milk
2 tbsp miso paste
2 tbsp nutritional yeast
1 tsp mustard
3 Dairygold plant-based alternative white slices
1/4 tsp turmeric
1/4 teaspoon paprika
1 tsp salt
½ tsp freshly ground black pepper
4 sheets of filo pastry
50g melted Dairygold butter
Crumb
100g breadcrumbs
3tbsp chopped chives
100g grated Dairygold plant-based alternative white grated
Instructions
Preheat the oven to 180°C
Cauliflower: Bring a large pot of water to the boil. Pop in the floret, cook until al dente for approximately 6 minutes. Remove and drain. Set aside. Blitz the cauliflower in the food processor, or mash with a handheld masher.
Pasta: Top up that pot with the same amount of water again. Add the macaroni to the same pot of water and cook until al dente, about 8 minutes.  Stir well as it cooks. Macaroni is one of those pastas that tends to stick together. Drain and set aside.
Creamy Béchamel Sauce: In a saucepan over medium heat, melt the Dairygold plant-based alternative creamy spread. Add the flour and cook, stirring constantly, for 1-2 minutes or until the mixture is smooth and bubbling. Gradually whisk in the milk until smooth. Cook, stirring constantly, for 5 minutes or until the mixture thickens. Add the Dairygold plant-based sliced white, paprika, mustard, nutritional yeast, salt, and pepper. Stir until everything is melted and the sauce is smooth.
Add the cooked macaroni and cauliflower to the sauce and stir to combine.
Filo Time: Melt the Dairygold plant-based alternative creamy spread. Using a pastry brush, brush each sheet with the melted spread.  Layer the filo pastry sheets into the tin, painted side down.
Spoon the mac and cheese mixture into the filo-lined dish.
Make the crumb: Toss the breadcrumbs, seasoning smoked paprika and Dairygold grated white into a bowl. Mix well and sprinkle on top of the
Bake for 20-25 minutes or until the filo is golden and crispy.
Serve hot and enjoy your crispy filo cauliflower Mac and cheese pie. Garnish with finely sliced chives.