Friday Night Pizza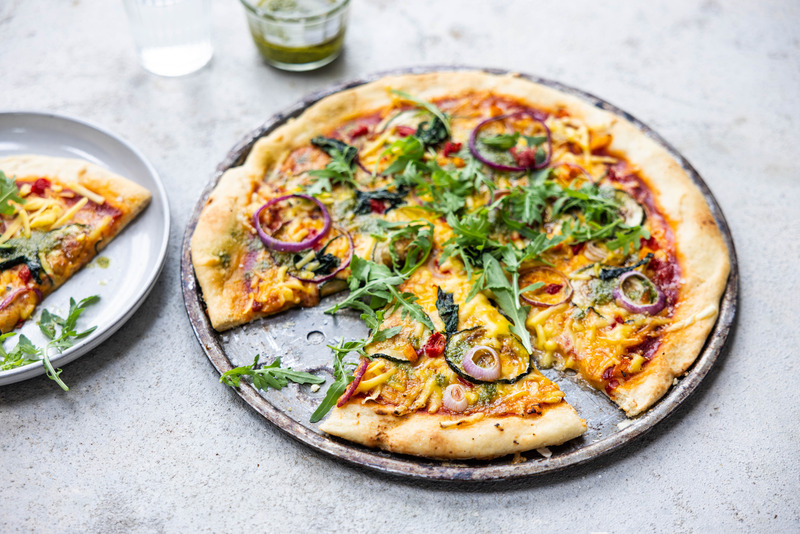 20mins
Ingredients

Dough, 1 pizza base

7g fast action dried yeast ( Doves brand, preferably )
120ml lukewarm water ( 45℃ ) Note: about the same temperature as hand washing clothes. Nice and warm but not too hot.
1 tsp sugar
250g plain flour ( 50g extra for rolling )
5g fine sea salt
1 tbsp Dairygold plant-based alternative creamy spread

Tomato Sauce

75g Passata
1/2 tsp oregano
1/2 tsp brown sugar
1 tsp garlic powder
Optional: 1 tsp onion powder

Toppings

200g Dairygold plant-based alternative, grated white
2 pieces roast peppers ( finely diced )
100g spinach ( 1 tsp Dairygold plant-based alternative spread & 1 tsp water to wilt)
1/2 courgette ( 1 tsp Dairygold plant-based alternative spread - painted and griddled )
1 small red onion
2 tbsp vegan basil pesto
1 small handful rocket
Ingredients
Dough, 1 pizza base
7g fast action dried yeast ( Doves brand, preferably )
120ml lukewarm water ( 45℃ ) Note: about the same temperature as hand washing clothes. Nice and warm but not too hot.
1 tsp sugar
250g plain flour ( 50g extra for rolling )
5g fine sea salt
1 tbsp Dairygold plant-based alternative creamy spread
Tomato Sauce
75g Passata
1/2 tsp oregano
1/2 tsp brown sugar
1 tsp garlic powder
Optional: 1 tsp onion powder
Toppings
200g Dairygold plant-based alternative, grated white
2 pieces roast peppers ( finely diced )
100g spinach ( 1 tsp Dairygold plant-based alternative spread & 1 tsp water to wilt)
1/2 courgette ( 1 tsp Dairygold plant-based alternative spread - painted and griddled )
1 small red onion
2 tbsp vegan basil pesto
1 small handful rocket
Instructions
Yeast: Activate the yeast by pouring warm water into a jug. Stir in the sugar, Sprinkle the dried yeast on top and stir. Allow to sit for about 20 minutes, until a thick bubbly, yeasty foam appears on top.
Prepare the toppings: Although not essential, I griddle the courgettes before they go on the pizza. Thinly slice the courgette, melt the creamy spread in the griddle pan and char a little on each side until golden. Remove and set aside.
In the same pan, add another tsp of creamy spread and a tsp of water and wilt the spinach.
Slice the red onion into thin rounds, drain, rinse and dice the red peppers.
Preheat the oven to 200℃ ( fan oven )
Pizza Dough: When the yeast is ready, weigh the flour into a large bowl, add in the salt and stir well until a soft dough is formed. Sprinkle some flour on the board, roll the dough in the flour, adding as you go until it is no longer sticky. Knead lightly for about 1 minute and then roll out into a circular shape. Sprinkle flour on the base of the pizza tray or brush with oil. Carefully place the base on the tin and stretch out into the correct shape.
Tomato Sauce: Spread the pasta over the pizza base. Use the back of a spoon to spread it out well, leaving a 2 cm border all the way round. Sprinkle over the garlic powder, oregano and brown sugar.
Toppings: Sprinkle on 150g grated white, top with the courgette, onion, spinach and roast peppers. Sprinkle on the remaining grated white.
Paint the edges of the crust with a little melted creamy spread and sprinkle with sea salt.
Bake until golden and delicious for approximately 15-20 minutes.
Remove from the oven and allow to cool a little before slicing and serving.
Garnish with rocket and little dollops of green pesto.
Serve and enjoy.