Vegan Garlic and Herb Flatbread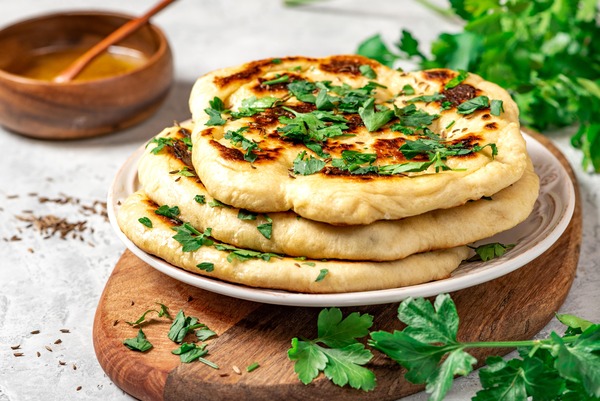 Ingredients

Dough, Will make 6 flatbreads

260g Self raising Flour
Half tsp baking powder
Half tsp salt
260g vegan yogurt(we used soya based)
1 tbsp olive oil
1 tbsp melted Dairygold Plant-Based B'tter

Herb Butter

50g Dairygold Plant-Based B'tter
3 cloves of garlic
2 sprigs of rosemary
4 sprigs of thyme
4 sprigs of fresh oregano
Ingredients
Dough, Will make 6 flatbreads
260g Self raising Flour
Half tsp baking powder
Half tsp salt
260g vegan yogurt(we used soya based)
1 tbsp olive oil
1 tbsp melted Dairygold Plant-Based B'tter
Herb Butter
50g Dairygold Plant-Based B'tter
3 cloves of garlic
2 sprigs of rosemary
4 sprigs of thyme
4 sprigs of fresh oregano
Instructions
Put the dry ingredients into a large mixing bowl. Flour, salt, Baking Powder
Combine your wet ingredients. Yogurt, Olive Oil, Melted Dairygold Plant-Based B'tter
Mix all ingredients together, until you have soft and smooth dough, You may need to add a little flour if it is still sticky.
Melt the Dairygold Plant-Based B'tter in a pot over a low heat with the herbs and garlic. Set aside and allow the flavours to infuse for a few minutes.
Put your dough onto a flour work surface and divide into 6 equal pieces. Roll each piece into a ball,
Using a floured rolling pin, roll each ball until around 5 mm thick
Preheat a frying pan or griddle to a medium heat, cook each flatbread for 1 minute on each side, until they have some nice colour in spots.
When the flatbread is cooked, remove from the pan and brush directly with your herby Dairygold Plant-Based B'tter.
Enjoy!