Chilli Loaded Garlic Baked Potato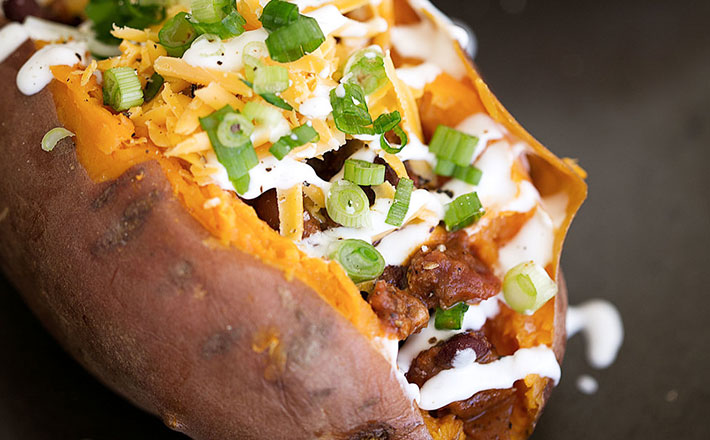 50mins
Ingredients

Dairygold Deli Roasted Garlic
4 medium sweet potatoes - about 225g each
1 1/2 tbsp extra virgin olive oil
1 tbsp tomato paste
1 large onion, sliced
1 tin chopped tomatoes
1 tin kidney beans
1 medium chilli, sliced
1 tsp ground cumin, to season
340g lean minced beef
200g grated mature cheddar cheese
Fresh coriander
Fresh Lime
Serve our amazing Dairygold Deli  Garlic dressing with whole baked sweet potato, stuffed with beef chilli con carne, grated mature cheddar cheese and fresh picked coriander …..why not add a squeeze of fresh lime for a zesty finish for a low carb dinner alternative.
Ingredients
Dairygold Deli Roasted Garlic
4 medium sweet potatoes - about 225g each
1 1/2 tbsp extra virgin olive oil
1 tbsp tomato paste
1 large onion, sliced
1 tin chopped tomatoes
1 tin kidney beans
1 medium chilli, sliced
1 tsp ground cumin, to season
340g lean minced beef
200g grated mature cheddar cheese
Fresh coriander
Fresh Lime
Instructions
Heat oven to 200C/180C fan/gas 6. Prick the potatoes in several places and bake for 45 mins until soft.
Meanwhile, heat the oil in a large pan, then cook the onion and chillies for 3-4 mins until softened. Add the beef and seasoning and cook for 5 mins, stirring often. Add the tomatoes and kidney beans, bring to the boil, partially cover and gently simmer for 30 mins.
Season the chilli. Cut the sweet potatoes open, spoon in some chilli and top with grated mature cheddar, fresh coriander and Dairygold Deli Roasted Garlic on top to add some fresh flavour. Garnish with fresh lime if desired.