Unbeetable Beetroot Burger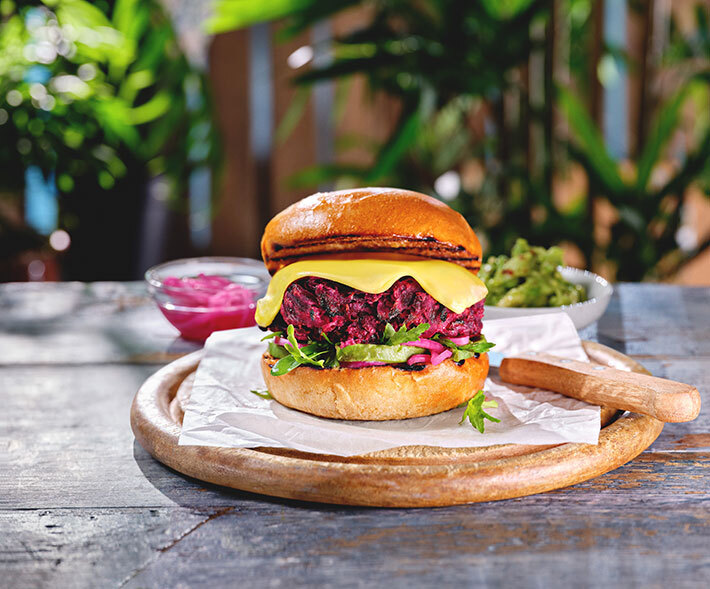 Ingredients

4 tbsp olive oil
1 diced white onion
4 cloves of garlic, crushed
2 raw beetroot, peeled and grated
100g breadcrumbs
400g can chickpeas, drained
3 tbsp tahini paste
1 large egg
Sea salt
Freshly ground black pepper
Dairygold Plant Based Slices
Brioche bun
Hummus
Rocket
Avocado slices
Pickled onion
Ingredients
4 tbsp olive oil
1 diced white onion
4 cloves of garlic, crushed
2 raw beetroot, peeled and grated
100g breadcrumbs
400g can chickpeas, drained
3 tbsp tahini paste
1 large egg
Sea salt
Freshly ground black pepper
Dairygold Plant Based Slices
Brioche bun
Hummus
Rocket
Avocado slices
Pickled onion
Instructions
Heat the 2 tbsp oil in a large frying pan over a medium heat. Sauté the onion and garlic for 4-5 mins or until softened. Allow to cool. 
In a food processor, blitz the breadcrumbs, chickpeas, tahini and egg yolks, pulsing until combined. Add to a large bowl, along with the cooked onion and garlic.  Season generously with salt, pepper and olive oil as needed and set aside.
Form patties out of the mixture and pop in the fridge to firm up for about 20-30 minutes (or overnight if you wish). Heat the remaining oil in a non-stick frying pan over a medium heat and cook the burgers for about 5 mins each side until cooked through and golden. Add on a Dairygold Plant Based Slice and then cover the pan with a lid until the slice has melted. 
Serve the burgers in toasted brioche buns with the hummus, avocado, pickled onion and rocket. Enjoy!