Dairygold Honey, Lemon and Rhubarb Traybake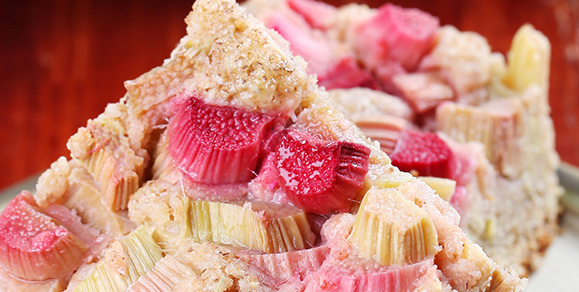 15mins
Ingredients

100g/3½oz Dairygold Baking Block (plus some additional for greasing)
100g/3½oz caster sugar
2 free-range eggs
100g/3½oz self-raising flour
150g/5oz rhubarb, peeled and chopped
1 large lemon, peeled and chopped
2 tbsp honey
Honey and lemon is a classic cure for a sore throat, but once you add some rhubarb to the mix, you've also got the perfect prescription for any cases of sweet tooth! This adventurous traybaked dessert both looks and tastes absolutely gorgeous – it's sure to make you the talk of the dinner table.
Ingredients
100g/3½oz Dairygold Baking Block (plus some additional for greasing)
100g/3½oz caster sugar
2 free-range eggs
100g/3½oz self-raising flour
150g/5oz rhubarb, peeled and chopped
1 large lemon, peeled and chopped
2 tbsp honey
Instructions
Preheat your oven to 200°C/400°F/Gas Mk 6.
Add 100g Dairygold Baking Block and the sugar into a food processor; blend into a paste.
Add your eggs and flour and continue blending until smooth.
Next, grease a baking tray with a small amount of Dairygold Baking Block.
Scatter your chopped rhubarb and lemon evenly across the greased tray and drizzle the honey over them.
Pour your sponge mixture over the honeyed fruit and place in your preheated oven.
Bake for 10-15 minutes, or until the sponge is golden and firmly set.
Serve piping hot from the oven, with whipped cream on the side.