Energy Bars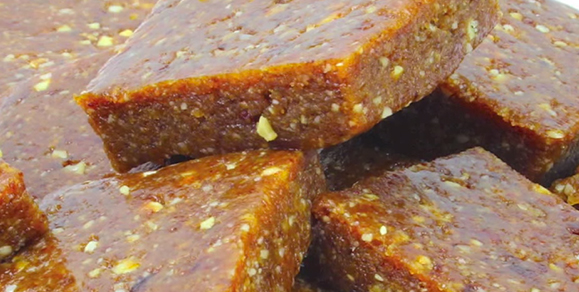 180mins
Ingredients

170 grams of nuts (mixed selection)
160 grams of dried dates
160 grams of dried fruit
These energy bars make for a perfect after-school snack that's bursting with goodness. Why not try whipping up a batch? They are quick, easy and delicious!
Ingredients
170 grams of nuts (mixed selection)
160 grams of dried dates
160 grams of dried fruit
Instructions
Start by putting all your nuts into a blender, we like to use a wide variety to increase the flavour.
Next add in 160g of dried dates, followed by 160g of dried fruit.
Now its time to mix the ingredients together, use a mixer or blender until the ingredients form into one thick consistancy, this usually takes 1-2 minutes.
Remove mixture from the blender and place onto a tray lined with baking paper.
Using your hands, flatten the mixture so that it sits evenly in the tray.
Place the tray into a fridge and leave to harden for 2-3 hours.
Check that the mixture is hard and rigid before removing out of the fridge, if you are happy with the texture remove the mixture from the tray and place onto a cutting board.
Finally, using a sharp knife carefully cut into bite size squares for everyone to enjoy.