Pulled Pork Smokey Chipotle & BBQ Burger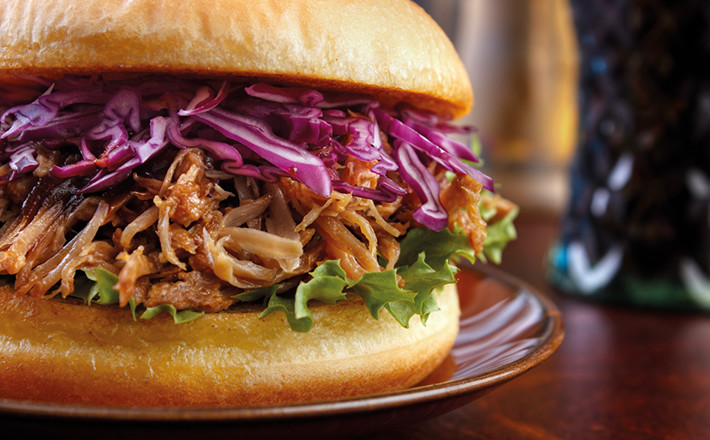 360mins
Ingredients

Chipotle BBQ Burger

Dairygold Deli Smokey Chipotle
2 1/2kg boneless pork shoulder, skin removed
3tbsp olive oil
2 tsp paprika
2 tsp mustard powder
1 tsp garlic salt
1 tsp onion salt
10 brioche buns
1 tub tangy red cabbage slaw
200ml BBQ sauce
Black Pepper, to season
Spread Dairygold Smokey Chipotle Deli on to a toasted brioche bun, add tender, flavoursome BBQ pulled pork and crunchy slaw for a tasty BBQ addition
Ingredients
Chipotle BBQ Burger
Dairygold Deli Smokey Chipotle
2 1/2kg boneless pork shoulder, skin removed
3tbsp olive oil
2 tsp paprika
2 tsp mustard powder
1 tsp garlic salt
1 tsp onion salt
10 brioche buns
1 tub tangy red cabbage slaw
200ml BBQ sauce
Black Pepper, to season
Instructions
Heat oven to 150C/130C fan/gas 2. Rub the pork with 2 tbsp of the olive oil. Heat a large non-stick pan until very hot and sear the pork on all sides until golden brown.
Place the meat on a wire rack in a roasting tin. Mix the paprika, mustard powder, garlic and onion salt, and some black pepper. Brush all over the meat.
Add 1 cup of water to the roasting tin, cover very tightly with foil and cook for 5 hrs or until almost falling apart.
Drain the juices from the meat into a measuring jug. Shred the pork using 2 forks, discarding the fat.
Skim off the fat from the juices. Mix 125ml of the juices with 4 tbsp BBQ sauce and pour over the meat.
To assemble, pile the meat into the halved brioche buns, smother in Dairygold Deli Smokey Chipotle, spoon over the BBQ sauce, top with red cabbage slaw and sandwich together.