White Chocolate Chip Cranberry Cookies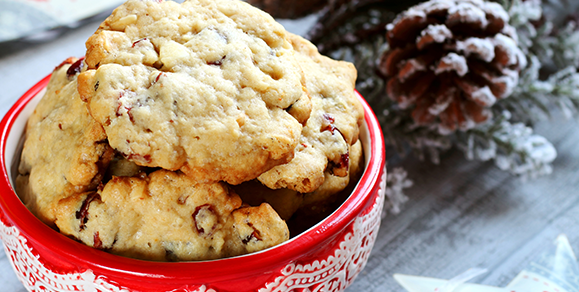 Ingredients

170g Dairygold Baking Block
150g dark brown sugar
There is always room for cookies at Christmas, especially if they're soft-baked White Chocolate Chip Cranberry Cookies!
Ingredients
170g Dairygold Baking Block
150g dark brown sugar
Instructions
Add the Dairygold Baking Block into a large bowl and begin to whisk until it becomes smooth and creamy, usually 1-2 minutes.
Pour in the brown and granulated sugar and continue to mix until fluffy and light in colour. Beat in the egg and add the vanilla extract in on top. Mix once more for one last minute.
In a separate bowl, whisk the flour, baking soda, corn flour and salt.
When combined, add into the wet mixture and begin to slowly mix through until the cookie dough becomes quiet thick and heavy. Add the chocolate chips and the cranberries and mix until they become evenly dispersed.
Wrap the bowl tightly with tin foil or plastic, and place into the fridge for at least two hours to cool. Cooling is a necessity and if  possible leave overnight to chill.
Once cooled for 2 or longer hours, remove from the fridge and allow to sit at room temperature for 10 minutes. If left overnight allow cool for 30 minutes.
Remove cookie dough from the refrigerator and allow to sit at room temperature for 10 minutes– if the cookie dough chilled longer than 2 hours, let it sit at room temperature for about 30 minutes. This makes the cookie dough easier to scoop and roll.
Preheat oven to 350F or 175 °C. Line two baking trays with grease proof paper and set aside.
Work the chilled dough with your hands and roll into little balls, approx one Tablespoon of dough per ball. Place 10 – 12 on each baking sheet and bake in batches for 8-10 minutes, until they become golden brown on the edges.
Allow to cool for 5 minutes on the baking tray. Transfer to cooling rack to cool completely and enjoy!