Chickpea Stew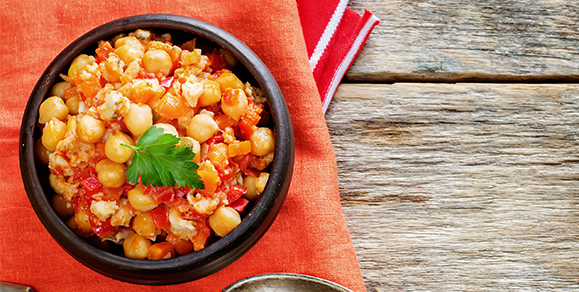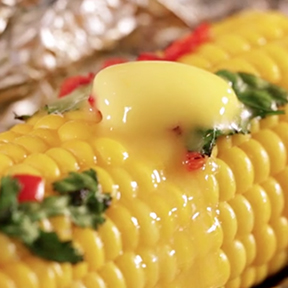 BBQ'd Corn on the Cob

35mins
Ingredients

1 tbsp olive oil
1 large onion, peeled and thinly sliced
3 large garlic cloves, minced
1 pinch piece of ginger, minced
2 tsp garam masala
1 tsp cumin
¼ tsp cayenne pepper (or more or less to taste)
400g of cooked chickpeas (or 1 tin, drained)
4 chopped tomatoes (14oz) or 2 tins of chopped tomatoes
Pinch of sugar (optional, to cut through the acidity of the tomatoes)
3 generous handfuls of fresh baby spinach
2 tbsp fresh coriander, chopped (optional)
Squeeze of fresh lemon (optional)
Salt and pepper to taste
We'd normally be suggesting a Sunday roast but here's a healthy, tasty and filling recipe the whole family will love. Not to mention another one of your 5 a day!
Ingredients
1 tbsp olive oil
1 large onion, peeled and thinly sliced
3 large garlic cloves, minced
1 pinch piece of ginger, minced
2 tsp garam masala
1 tsp cumin
¼ tsp cayenne pepper (or more or less to taste)
400g of cooked chickpeas (or 1 tin, drained)
4 chopped tomatoes (14oz) or 2 tins of chopped tomatoes
Pinch of sugar (optional, to cut through the acidity of the tomatoes)
3 generous handfuls of fresh baby spinach
2 tbsp fresh coriander, chopped (optional)
Squeeze of fresh lemon (optional)
Salt and pepper to taste
Instructions
Heat olive oil in a large lidded pan over medium heat.
Add the onions, and fry until translucent.
Add the garlic and ginger, and cook for a couple of minutes more, stirring frequently.
Add the garam masala, cumin and cayenne pepper, stir so that the onions .have a nice coating of the spices, cook for just a minute until the spices are a little toasted.
Add the chickpeas and stir well so they are covered in oil and spice.
Add the tomatoes and sugar (if using), give everything a good stir, cover, and simmer for 20 minutes on low-medium heat.
Add the spinach in batches, and stir until the spinach is wilted.
At the end of cooking, add a sprinkling of fresh coriander, and a squeeze of fresh lemon juice if desired.
Serve with rice or naan.