Pizza Dough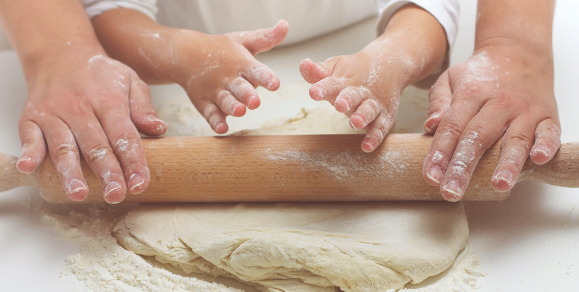 Ingredients

8g instant (rapid rise) dry yeast
10g sugar
310 ml warm milk
45g Dairygold Baking Block
360g all-purpose flour
1 tsp salt
Everyone loves pizza right? Well we have a great dough recipe which you and the kids can all enjoy making!
Ingredients
8g instant (rapid rise) dry yeast
10g sugar
310 ml warm milk
45g Dairygold Baking Block
360g all-purpose flour
1 tsp salt
Instructions
In a large bowl, mix yeast, sugar, warm milk (do not bring to a boil) and melted Dairygold Baking Block.
Let rest 10 minutes to allow yeast to activate. Foam will form along the surface.
Mix flour and salt. Gradually add to bowl, mixing with a fork, and eventually with your hands if using a fork becomes difficult.
Incorporate flour until dough is consistent and fairly firm.
Flour a work surface and knead the dough, adding a bit of flour until dough no longer sticks. To knead, fold and flatten the dough for roughly 5 minutes, using the palm of your hand or fist.
Place dough ball in a bowl greased with butter, cover, and allow dough to rise in a warm, draft-free location. The dough must double in volume. This should take about 45 minutes.
Deflate the dough prior to working it according to the chosen recipe.