Savoury Chicken Escalope with Dairygold, Lemon & Parsley Sauce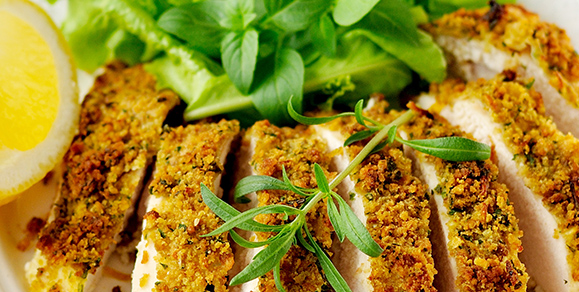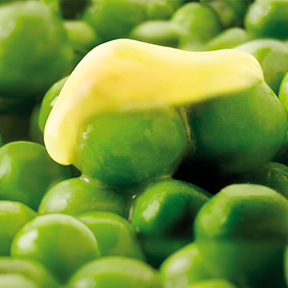 Garden Peas

40mins
Ingredients

Chicken Escalope

4 chicken thighs, boned and flattened
200g/7oz breadcrumbs
200g/7oz grated cheddar
2 eggs, beaten
200g/7oz plain flour seasoned with salt and freshly ground black pepper
2 tbsp olive oil

Sauce Dairygold, Lemon & Parsley Sauce

100g / 7tbsp Dairygold
1 lemon, juice only
1 tbsp chopped parsley
Salt and freshly ground black pepper
Pretty much everyone loves chicken, so that's good. The trick is doing enough different things with it to keep it interesting. So here's a quick and easy chicken escalope recipe with a lemony zest to bring some fresh flavours to the table. A quick serving suggestion – new potatoes go really well with these.
Ingredients
Chicken Escalope
4 chicken thighs, boned and flattened
200g/7oz breadcrumbs
200g/7oz grated cheddar
2 eggs, beaten
200g/7oz plain flour seasoned with salt and freshly ground black pepper
2 tbsp olive oil
Sauce Dairygold, Lemon & Parsley Sauce
100g / 7tbsp Dairygold
1 lemon, juice only
1 tbsp chopped parsley
Salt and freshly ground black pepper
Instructions
To make an escalope, first mix the grated cheese and breadcrumbs together in a food processor.
Toss the chicken in the flour, then pat off any excess.
Dip each chicken into the beaten eggs, coat in the breadcrumbs, dip again into the egg, and coat again in breadcrumbs.
Heat the oil in a frying pan. Fry the escalope for two minutes on each side until golden.
Place in the oven (preheated to 200°C/400°F/Gas Mk 6) and cook for five minutes.
Once the escalopes are in, make the Dairygold, lemon and parsley sauce.
First, melt the Dairygold in a small frying pan.
Before it begins to brown, add the lemon juice and parsley and stir together.
To serve, pop the escalopes onto warm plates, season to taste and pour the sauce over them.