Cottage Pie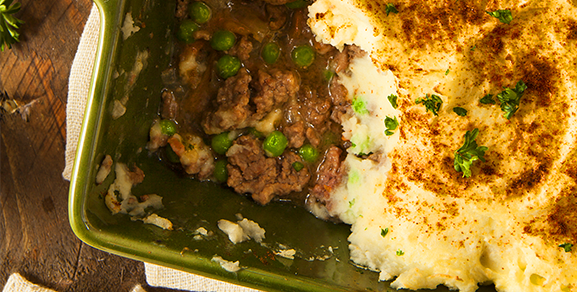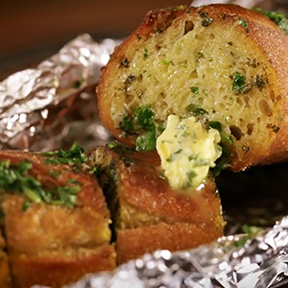 Garlic Bread

50mins
Ingredients

2kg floury potatoes
Salt and pepper
2 garlic cloves
2 medium eggs
Milk
725g rump steak
3 onions
3 sprigs flat-leaved parsley
100g Dairygold
70g Gruyère cheese
Its very hard to beat any family favourite, but we feel our Cottage Pie has come pretty close!
Ingredients
2kg floury potatoes
Salt and pepper
2 garlic cloves
2 medium eggs
Milk
725g rump steak
3 onions
3 sprigs flat-leaved parsley
100g Dairygold
70g Gruyère cheese
Instructions
Grate the cheese and set aside.
Wash and peel the potatoes and cook in a saucepan of water for 30-40 minutes (20 minutes in a pressure cooker).
Drain the potatoes. Place half of them in a food processor. Add a little milk and pulse five times. Add a little more milk if you prefer a softer consistency. Set aside. Repeat these steps with the other half of the potatoes.
Transfer to a mixing bowl.
Add three-quarters of the Dairygold. Season with salt and pepper. Wait for the Dairygold to melt, then stir potatoes, Dairygold, salt and pepper together.
Preheat your oven to 210°C (Gas Mark 7).
Peel and quarter the onions. Peel and crush the garlic. Mix the onion and garlic together with the parsley.
Cut the steak into large pieces and add to the onion and garlic mixture. Pulse three times in a blender or food processor, then switch blender or food processor to continuous mode for 1 minute.
Heat some oil and the rest of the Dairygold in a frying pan. Fry the meat for 1 minute, stirring constantly. Away from the heat, stir in the eggs and season.
Put the meat in a gratin dish and cover with the mashed potato. Smooth the surface.
Scatter with grated cheese and